Yes, this is yet another site devoted to the 'big-man'!, yet I hope to bring kind of a fresher viewpoint-as I have no particular axe to grind. I must admit however that the Bigfoot phenomenon is a topic that fascinates me, but unlike most others who write on the subject I have no inclination to either side of the argument. In the following pages there are numerous accounts, sets of data, hypotheses etc on the subject-some are my own, some other peoples, some support the theory of the existence of Bigfoot/Sasquatch and some undermine it. In some cases there will be references to the Yeti and other possibly related species, due to my feeling that some of the most compelling evidence of a unspecified bipedal primate or relic hominid is of this ilk.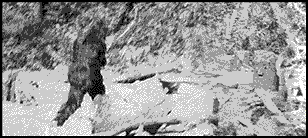 Shooting the Bigfoot, A BBC investigation
Links to related Sites

People have visited this site since 1/11/99!
*Authors Disclaimer* Due to the great number of resources used in the construction of this site permission to use quotes, accounts, pictures etc. has neither been sought nor granted. The author will not accept liability for any incidences of the reader misconstruing or taking out of context the words of other sources or inaccuracies in data that has been gathered from outside sources-1999.
All stills taken from and related to Patterson footage © Réne Dahinden 1967